29
Jul
07
SandPress Free WordPress Theme
Update: SandPress For Blogger Has been Released by zonacerebral You can see the demo here.
Update: the Theme has been update get the latest version here.
Updated: Corrected some typos and added a few more lines and link to the demo
I am sure most you are eagerly waiting for the SandBox theme that I was developing for the SandBox theme competition. I have labelled the theme as SandPress. I spent a total of 2*5+5+5=20 hours last week designing the mockup, the mockup went through 3 major iterations I had a lot of trouble coming up with the colour scheme in the end I decided to use the default WordPress colours and go for a minimalist design, I used Everaldo's superb GPL Icons to add some punch, then I spent another 3*5+15=30 hours this week converting the design to XHTML and CSS. The last day i.e Saturday was the worst, I had finished only 80% and I had to make sure it was cross browser compatible. In fact I have around 15-20 things in my to-do list that I yet to do and implement. Also I forgot to clean up the CSS code before sending it. So expect a update for this theme pretty soon. It was really challenging to do this since this is the first time I have tried to design using just CSS. Learning the ins and outs of the SandPress and trying to come up with solutions and workaround using just CSS was extremely challenging. I managed to learn some new CSS tricks. Ok enough of the blabbering. Here is the theme and I am supposed to leave a pingback to the sandbox blog.
The SandPress WordPress Theme
View the demo here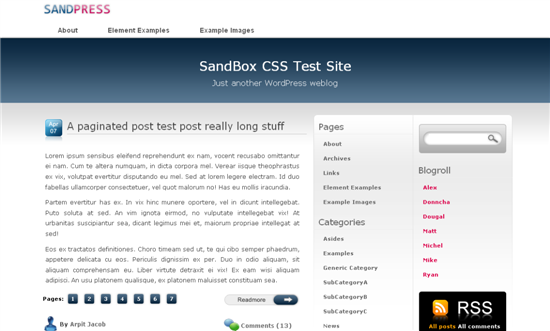 Download The Theme
[download#3#image]
Trackbacks/Pingbacks