19
May
07
Google Bookmarks And Reader The Most Popular Services
Well its looks like Google's Bookmarking Service is more popular than Delicious and similarly Google Reader is way more popular than other Online RSS Readers.
Lets take a look at the graph released by AddThis which is service which helps you to add bookmarking icons to your blog posts. It puts all the Icons and links in a nice drop down menu so that your blog is not cluttered with icons.
Social Bookmarking Trends
Surprisingly a large number of people still use their local favorites to store their bookmark links. To be frank I didn't know that Google had a Bookmarking service till I read about it today.
The graph below shows the Trends for social bookmarking trends for May 2007. Interesting to note that their is a long tail here since the number of people using other bookmarking service seem to be rather high. This gives bloggers more reasons to add multiple number of bookmarking links on their posts.
Feed Reader Trends
I can perfectly understand why people love the Google RSS reader since I myself am a avid user. The things about Google reader is it's fast and powerful and its focused only on RSS Feeds. Though MyYahoo and Bloglines are at 2nd and 3rd position respectively Google Reader leads the pack by a huge margin.
And these are the RSS Feed Reader Stats For the month of May 2007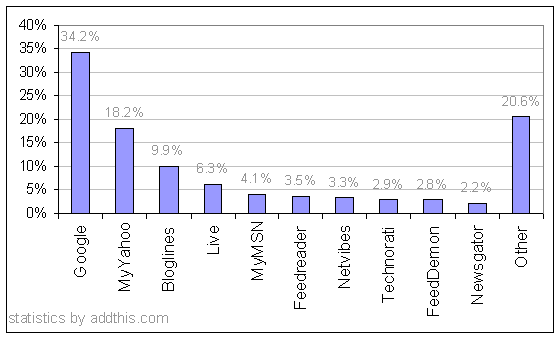 I haven't add any links to add my feed to the various Feed Reading services, and my bookmarking icon is sort of broken since it works only in Firefox. I need to work on these. While I am not too keen on splattering my blog post with Icons. I'll be using Alex King excellent Share this Plugin once I have figured out how to customize it to give it the same look and feel of my blog.
Source Labnol