19
Dec
07
Did Someone Say Macs Are More Secure Than Windows?
George Ou who writes for the security column at ZDNET did an analysis of security for Mac OS and Windows using data from impartial Secunia. The Results maybe pretty surprising depending on what your views are regarding MAC Vs PC. I am personally not surprised but I certainly didn't expect such a big difference. I have never had any viruses or significant crashes with windows in the past 1 year that I running windows XP with Service pack 2 and the latest updates.
This shows that Apple had more than 5 times the number of flaws per month than Windows XP and Vista in 2007, and most of these flaws are serious. Clearly this goes against conventional wisdom because the numbers show just the opposite and it isn't even close.
Also noteworthy is that while Windows Vista shows fewer flaws than Windows XP and has more mitigating factors against exploitation, the addition of Windows Defender and Sidebar added 4 highly critical flaws to Vista that weren't present in Windows XP. Sidebar accounted for three of those additional vulnerabilities and it's something I am glad I don't use. The lone Defender critical vulnerability that was supposed to defend Windows Vista was ironically the first critical vulnerability for Windows Vista.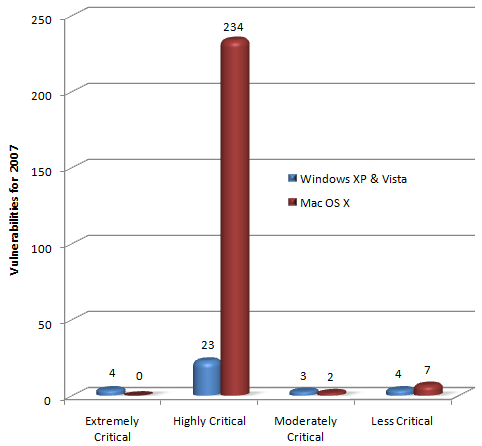 Source CybernetNews