18
Jul
07
Cool Free Screen Capture And Screencasting Software
TechSmith, developers of the popular paid SnagIt (Screen Capture) and Camtasia Studio(Video Capture), have released a new Free Screen Capture And Screencasting Software Called Jing. The Software works on Mac and Windows XP / Vista. The PC client requires .NET 3.0 framework from Microsoft. I the Jing installer downloads it for you during the install if you don't have it installed.
You Can Take ScreenShots, Capture a video and also share it online, the videos and pictures are uploaded to Screencast.com. The software is very easy to use and the uploading feature is really easy. It also stores a history of the Screenshots taken so that it becomes easy to manage. The other cool thing is all you need too do is point and click at the area you want to capture, it intelligently captures the rectangular area you specified without you drawing a rectangle selection area with the mouse. I am pretty sure this will become very popular application for blogger. I think currently taking, cropping and uploading Screenshots is big hassle. Download it from the Jing site.
Screencast.com
Jing files are hosted on Screencast.com. To use Jing, you'll need to sign up for a Screencast.com account. This will provide you with 200 MB of storage and 1GB per month of bandwidth. The normal trial account for Screencast.com has a 60 day limit, but to get the most out of the Jing Project, and to share our appreciation for your feedback, we're offering a trial account with no expiration until the end of the Jing Project (date to be determined). Enjoy.
Managing your History
Your History is where all your captures are sent after you Share or Save. Here you can re-Share, Save, or Delete your previous captures.  Deleting a capture deletes it from your History as well as Screencast.com if it has been shared. This breaks any links to this media that you may have shared. Shift or control click for multiple deletion.
Here is a quick visual run down of what you can do. Or you can watch the ScreenCast here.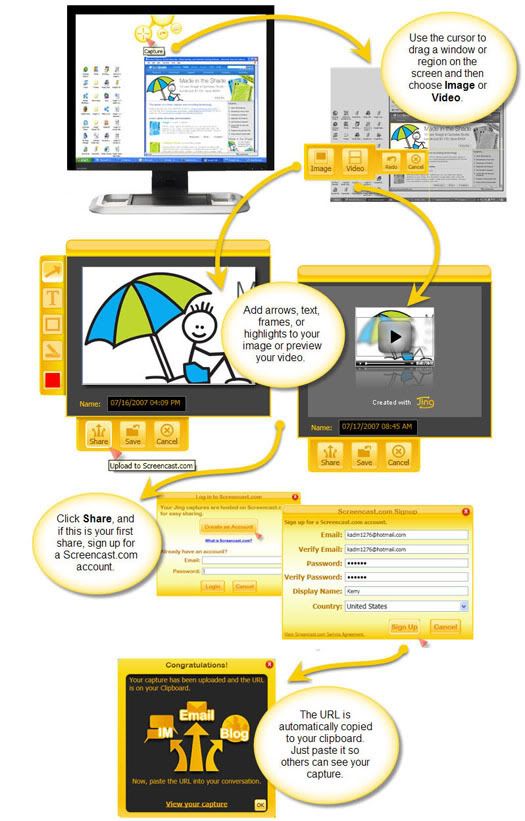 Source: Labnol